Many people have sought me out to provide acu­punc­ture for a sports injury. I've used Japanese Acupuncture to treat sports injur­ies as diverse as a broken arm, ten­nis elbow, sprained ankle, broken leg, ham­string injury, frozen shoulder, muscle/ ten­don tear, swollen knee and golfer's elbow.
Japanese Acupuncture falls back on the heal­ing doc­trines which derive from Chinese Medicine with a Japanese influ­ence, basic­ally it has it roots in Asian medi­cine. The doc­u­ment­ary evid­ence of this ancient medi­cine is at least 5,000 years old – arte­facts from this peri­od have been found with engrav­ings of the Meridian Points that under­pin Japanese Acupuncture. Meridians are ener­get­ic net­works or grids like in a traffic sys­tem you may have in your city – there are green lights, red lights and orange lights.
So essen­tially speak­ing, the Meridian net­work is an over­lay to the nervous sys­tem, the car­di­ovas­cu­lar sys­tem and the mus­cu­lar sys­tem. From an Oriental Medicine per­spect­ive, it is the integ­ra­tion or con­trolling sys­tem for the oth­er three sys­tems just men­tioned.
It is less tan­gible, less phys­ic­al, than oth­er sys­tems, but cer­tainly there is much evid­ence to sup­port the exist­ence of an ener­get­ic net­work that enables inter­ac­tion between points in the net­work. Hence I have the abil­ity to treat ail­ments of the head using points on the feet. There is a con­nect­ing meridi­an or path­way from the head to the foot.
In ancient medi­cine, they out­lined and named these path­ways 5,000 years ago. I don't know to this day how they man­aged to source this inform­a­tion.
What I do know is that while I have been in clin­ic­al prac­tice over the last 30 years, the applic­a­tion of this the­ory has giv­en me a great abil­ity to work with the extremit­ies util­iz­ing points and meridi­ans on the trunk of the body to influ­ence the extremit­ies.
So it is the integ­rated net­work on which this ancient medi­cine is based that allows me to treat such a great vari­ety of sport­ing injur­ies, includ­ing injur­ies from many dif­fer­ent types of sports such as foot­ball, ten­nis, row­ing, crick­et and surf­ing.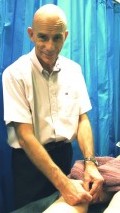 Japanese Acupuncture is amaz­ing medi­cine and I am as fas­cin­ated with it today as I was when I com­menced my stud­ies over 30 years ago. I feel very priv­ileged and very grate­ful to prac­tise this medi­cine. I can't say that it has not been without a struggle and, still is, but the rewards are huge.
Now a lot of people have tried unsuc­cess­fully to resolve their sports injur­ies with dif­fer­ent kinds of ther­apies. For instance, I have seen many people who have had chron­ic ankle sprains hav­ing great dif­fi­culty get­ting their issues resolved and then respond mag­ni­fi­cently to Japanese Acupuncture – a form of acu­punc­ture that does not trans­late to oth­er forms using needles in dif­fer­ent guises.
Japanese Acupuncture is cer­tainly an ancient and an incred­ibly power­ful meth­od for treat­ing a sports injury, includ­ing ankle sprains.