Alan Jansson is an inter­na­tion­ally recog­nized teach­er and prac­ti­tion­er of Japanese Acupuncture.
In clin­ic­al prac­tice for 35 years, he is driv­en by a strong desire to use the con­sumer friendly nature, clin­ic­al effic­acy and potency of Japanese Acupuncture to bene­fit all who seek his assist­ance, he is pas­sion­ate about deliv­er­ing excel­lence and pos­it­ive clin­ic­al out­comes for his patient's.
He has presen­ted, con­vened and hos­ted more than 70 Japanese Acupuncture/Meridian Therapy work­shops in Australia, New Zealand, USA, Portugal and the Czech Republic.
Professional Qualifications
Bachelor of Acupuncture (1985) Practitioner Diploma of Acupuncture (1984)
Diploma in Massage (1981)
Australian rep­res­ent­at­ive Japanese Meridian Therapy Association (2000 — )
Fellow Australian Acupuncture and Chinese Medicine Association # 0148
Member Australian Traditional Medical Society # 270

AHPRA

Registration

CMR0001712141
Former Positions:
Board mem­ber Australian Acupuncture Association
Head of Acupuncture Dept. Australian Institute of Applied Sciences
Senior Lecturer Academy of Natural Therapies, Gold Coast TAFE
Current Positions:
Founder and Director www.worldacupuncture.com (Est. 1984)
35 years clin­ic­al prac­tice
25 years post and under­gradu­ate teach­ing
Director: The Australian Centre for Natural Medicine (Est 1996)
Director: The Institute of Classical Oriental Medicine (Est.1996)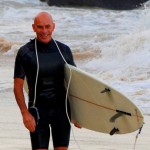 Alan is the proud fath­er of Ellie and Naomi, grand­fath­er of Jasper, Kayla and Saizen, act­ive surfer, trav­el­ler, avid pho­to­graph­er, video­graph­er and lov­er of music.